SUSTAINABLE FASHION & CONSCIOUS COMFORT
Jun 27, 2023
I often struggle with decisions.

Here I am advocating a natural lifestyle and preaching on how bad toxic ingredients are for your health.

The next moment I am craving for a gel manicure to look pretty.

One moment I am teaching about the SWITCH & DITCH approach and the benefits of using toxic free shampoo on your hair health and overall wellbeing.

The next moment I am planning to colour my hair to cover my first emerging grey hairs out of vanity.

Yes, that is the life of a woman who wants to live as naturally as she can while not sacrificing some beauty rituals for a sense of "self-care" hmmm is that an oxymoron, I don't know.

A common misconception though that many have when hearing about a TOXIC FREE LIFESTYLE is that you have to sacrifice many things.

Enter the 80/20 RULE. Don't be so hard on yourself, or you'll start making toxic choices that serve no good for anything or anybody - because let' face it, it affects relationships as well.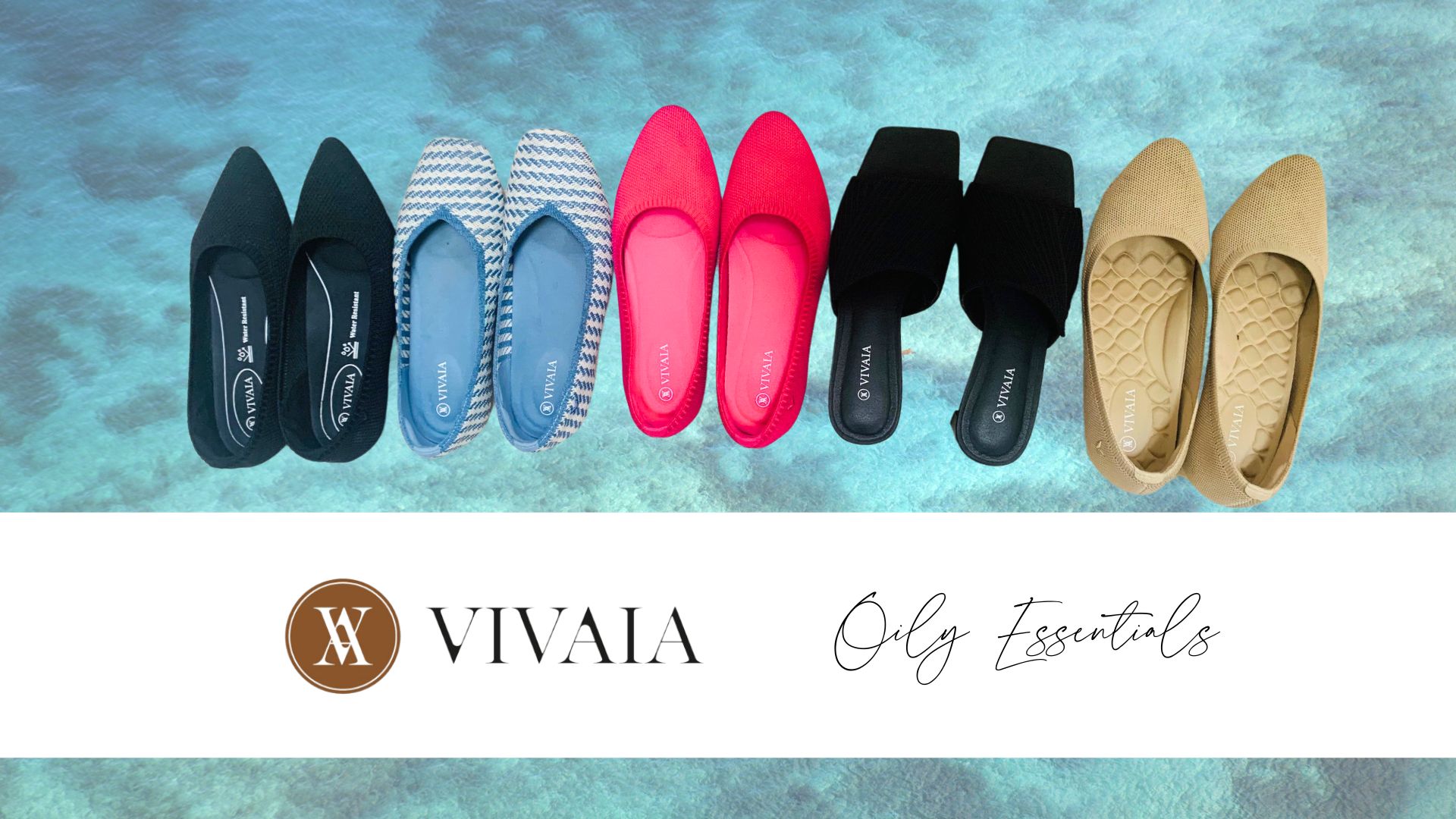 So, can you imagine how my face lit up when I found out about my newest obsession - SHOES?
So, somehow I heard of them, but it wasn't until my husband came home one day and said: "Des, you should look into VIVAIA shoes, I saw someone wearing them today and they are super stylish."

Oh I love my husband for these comments. A fashionista for sure, that places importance on quality items.

And there it was. A company that produces beautiful shoes from recycled plastic bottles.
---
VIVAIA is "Redefining women's casual fashion with earth-friendly materials and technology"
As of June 2023, approximately 3.5 Million Plastic bottles, discarded in the sea have been recycled to make these shoes.

Even though it comes from a plastic bottle, the material derived is light and thin, giving the shoes a barefoot experience. Natural and high quality materials are used for the insoles and outsoles to provide the softest support for your feet.
The fashion industry is probably one of the most pollution causing industries. And especially now, after the pandemic, their vision to create a new world that "dances with nature" has become so much more prominent.

SUSTAINABLE FASHION.
CONSCIOUS COMFORT.
PRETTY PRETTY SHOES.
I am on board with that! So I ordered my first pair. And oh my, wearing them for the first time felt like walking on a cloud.

Becoming a mom I somehow haven't really bought anything nice for myself for a long time. In and out of maternity clothes, changing sizes frequently in my postpartum journey and buying fast fashion (admittedly) because ahem…milk stains, food stains…moms, you know what I am talking about right?

So I ordered 2 more pairs of shoes and a bag! Oh yes, I did!

Washable Shoes is everything a mom needs!
The shoes being washable is probably one of my favourite features, because it means not feeling bad when taking my pretty shoes to a playground, because guess what…you can throw them into the washing machine when you get home!

They are so incredibly comfortable and don't have to be broken in. Their insoles seriously feel like I am wearing sneakers - and even when we where out exploring all day on a recent day trip - I DIDN'T get tired feet at the end.
Look at these….dress them up, dress them down. Add a pop of colour…and most importantly be COMFORTABLE!

Similar like my love for Essential Oils - I want to share this with my nearest and dearest….because I would feel incredibly selfish keeping this to myself.
So this is my NEW RITUAL in the mornings.
✨Apply Thieves under my feet in the morning to boost my immunity
✨Put on one of my VIVAIA shoes
✨Leave the house with a smile

---
And yay! I snagged a 10% discount code for you to try them, too!!
Just enter DESVV upon check out!!

And pleaseeeeee tag me when you get your shoes or bags!!
You can find me on INSTAGRAM @desiree_oilyessentials

xxx
Desiree
Stay connected with news and updates!
Join our mailing list to receive the latest news and updates from our team.
Don't worry, your information will not be shared.
We hate SPAM. We will never sell your information, for any reason.